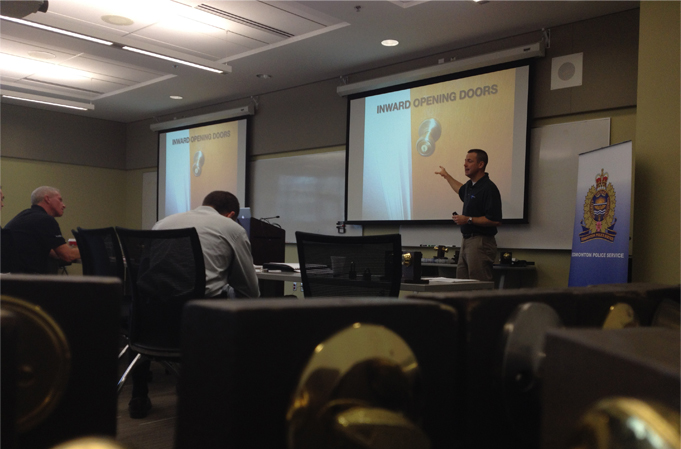 I'm Martin Holloway. I'm a current law enforcement officer and someone who's passionate about helping other law enforcement officers and military personnel learn new lock picking and specialized entry skills that they can immediately put to use in the field.
"The day after I completed class I had the opportunity to utilize the skills I learned in class." – Dave L.
As a current law enforcement officer, I'm actively using the same skills and encountering challenges in the field that I'm able to pass on to the personnel who attend our course. As a matter of fact, I'm humbled by the stories I receive and the impact they have.
"In the summer of 2010 I was dispatched to a welfare check of an elderly lady who lived alone. When I arrived other officers were trying to find an open door or window so they could enter the residence. I picked the lock to the front door in under 15 seconds. We located the lady in her kitchen on the floor. She was in convulsions in need of life saving measures. The medics advised us that she had most likely suffered a stroke at least two days prior. She was within hours of death when we entered the house. When she was transported I was able to lock the house back up. There was no damage done during entry so the house was secure."– Wayne B.
I'm well aware that many law enforcement classes are dull and theory-based. That's why I've always insisted that our Lock Picking and Specialized Entry Techniques class is hands-on intensive and prepares law enforcement officers and military personnel to confidently deploy their lock picking and lock bypassing skills.
"I have used the lock picking skills you taught on so many different occasions it is hard to keep track of them all.  I have picked numerous locks in a wide variety of situations ranging from getting hostages out of hand cuffs or bypassing sensors in training scenarios to gaining entry into locked compounds or areas in Afghanistan where it was quicker and safer to pick the lock then do a mechanical or explosive breach.  Over the past few years I have learned to always travel with my lock picking set you provided.  I really enjoyed your class and your updates you send out."– GySgt (name withheld) USMC
Our mission statement is simple: To provide the highest quality training in lock picking and specialized entry so that the student not only can, but WILL apply their new skills in the field. With over 1,000 law enforcement officers and military personnel trained, Hollotec is the authority for lock picking and lock bypass training.
Join me for our next class in your area. I personally guarantee that you'll leave the class with skills that you can immediately deploy in the field.